W.B. Yeats

Galway city is seen by many to be Ireland's Cultural Capital. This artistic and cultural heritage comes alive during the summer months with the arrival of the Galway Film Fleadh and the Galway Arts Festival. Students of our Irish and French Language courses will participate in these festivals, helping to foster an appreciation of the arts and Irish and French culture.

Galway city is a gateway to the wild Connemara region and the Aran Islands, providing endless opportunities for day trips and outings. Located on the shores of the Atlantic and Lough Corrib, a world of adventure for water-sports is also on our doorstep.

It truly is an all encompassing destination, offering arts, culture, shopping, sports and a little bit of magic.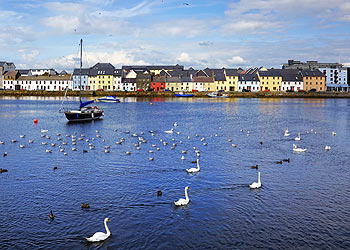 Transportation Linkages:
Galway city benefits from excellent transport linkages with rail services from Dublin and Limerick, bus services from many locations nationwide, and flights from Dublin to Galway Airport.
Yeats College is situated on College Road in the city, less than 500 metres from the train station and bus Terminals. Bus services into Galway are provided by Bus Eireann, Citylink and Go Bus amongst other private operators – please visit the operators website for timetable information.